Special Offer!

$29.95 + S&H

"What Parents Need to Know From Kids About Divorce"
Click HERE to view excerpts from the 19-minute DVD.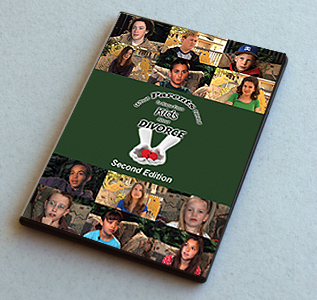 "...a special thank you for a video with such a heartfelt inside view of how kids feel. I will recommend this to my clients."

Isolina Ricci, Ph.D
Licensed Marriage and Family Therapist
Director, CoParenting Today

This unique instructional DVD for Parents, Children and Professionals is a compilation of candid interviews with children ages 4-18 talking about their experiences of their parents' divorce.

The kids talk about their pain. They talk about their adjustment. They talk about their love and understanding. The children have phenomenal wisdom and compelling practical advice to share.

"The children are so very clear about what they need from adults - presence, transparency, boundaries, peace. For parents and family law attorneys."

Cynthia Grover
Attorney











"The High Cost of High Conflict Divorce for Children"
Click HERE to view excerpts from the 22-minute DVD.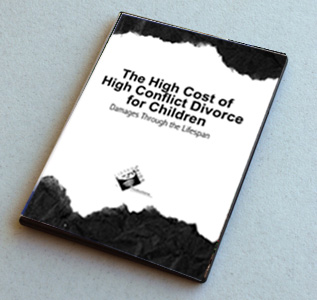 "This video put a lot in perspective for me right now. I want to hug my kids and tell them how sorry I am."


A Mom
"The problem is not the problem. Your attitude about the problem is the problem."


A Dad
Don't miss our special package prices for the DVDs, Quick Reference Card and Activity Book together. Scroll Down for details.
Most divorces start out conflictual, but what happens when that conflict persists for years?
Research indicates that 5 years after the divorce 1/3 of children are still intensely unhappy, angry and deeply lonely.
The consequences of being raised in conflict and disruption linger and their effects last a lifetime!
These courageous young people chronicle their life stories and the helplessness, the confusion and the pain so that others can learn from their lives.
Their hope is for change for the children today and in the future.
Running time approximately 22 minutes.
Click HERE for details and preview of the "Illness in the Family" DVD.
Click HERE for details and preview of the "Grief & Loss" DVD.
Click HERE for details and preview of the "Siblings of Autism" DVD.
Click HERE for details and preview of the "Inclusion..." DVD.

Special Value! Combination Packages

VERY BEST VALUE: All 6 DVDs English Language



The Combination Value Packages below are for Families, Professionals, K-12 & Public Libraries only


Click HERE for details about the Activity Books.
Click HERE for details about the Quick Reference Cards.




You may order online or by mail. PURCHASE ORDERS WELCOME



Scroll tdown for mail order info.
Shipping and Handling - $6 covers up to $200 in items shipped to the same address; shipping is FREE on orders of $200 or more for items shipped to the same address.
Quantity Discounts apply for orders of 10 or more DVDs. Please contact us at 970-270-4005 or info@listen2kids.net for details.
Online orders normally ship within 48 hours via USPS. Contact us for expedited shipping. Mail orders paid by check ship after checks clear, normally 5 business days.
Orders for Streaming Videos are completed as separate transactions from
hard-copy orders. They will not appear in the shopping cart, but are processed immediately. You may replay Streaming Video for 5 days after completing your order.
Order by Mail: Mail orders are welcome. They are shipped via USPS with delivery confirmation. Please make checks payable to Partners In Parenting, LLC and send to: Partners In Parenting, LLC
P.O. Box 3954
Grand Junction, CO 81502

Be sure to include your shipping address, telephone number and email address. Please do not send credit card information via mail or email. Sorry, no COD orders.
Questions and Customer Service: I welcome your questions and feedback. Contact me at:

Sue Polan
Partners In Parenting, LLC
P.O. Box 3954
Grand Junction, CO 81502
970-270-4005
info@listen2kids.net